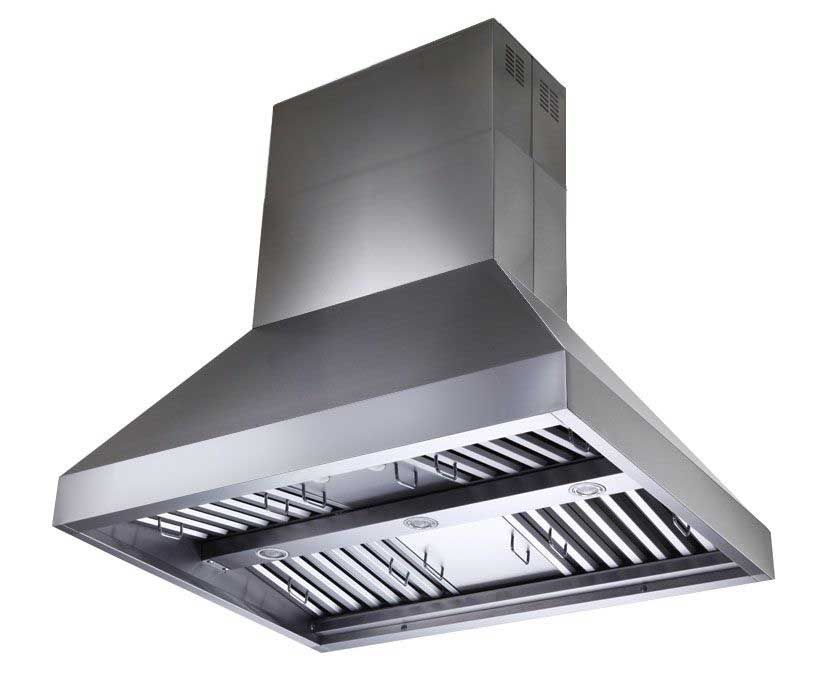 Storm Island 48" - Island Mount Range Hood
Availability:
In stock, most items ship in 2-3 days
Availability:
In stock, most items ship in 2-3 days
Specifications

• Assembled in Canada

• 1000 CFM Metal Blower (1200 CFM with 10" Duct)

• 4 Speed Mechanical Rotary Switch

• 6 Dimmable Lights

• 8" or 10" Round Duct

• Hidden Switch Design

• Adjustable Chimney Covers for 9'-10' Ceilings

• Made with 19 Gauge Stainless Steel

• Dishwasher Safe Stainless Steel Baffle Filters and Grease Tray

• 5 Year Parts Warranty
Product Description

The Victory Storm Island comes with mechanical rotary switches, making this range one of our most reliable models. Designed, assembled, and certified in Canada for long lasting, problem free service. We offer a 5 year parts warranty on this model.

The motor is an all metal rust/oil resistant blower with a powerful 1000CFM with an 8" round duct. Alternatively, the motor can also reach 1200CFM with a 10" round duct. With this models powerful blower and astonishing 34" depth, the Victory Storm Island is perfect for heavy duty gas stoves or BBQ's.

Please note: If you have a 9' ceiling, the highest you are able to install this range hood above a standard 3 foot counter height is 33". If higher installation height is desired, the chimney covers will need to be custom cut.


Processing Time
Most in-stock items require 2 business days to process before shipping. Large items may require more time.